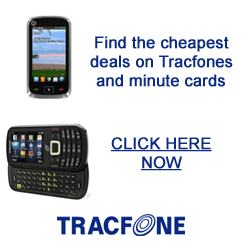 Tracfone has long been known as the very least expensive cell phone you can get. Lots of people like Tracfone because there are no contracts, no credit checks, no activation, overage, or cancellation charges. Tracfone is the supreme WYSIWYG kind of cell phone.
Get into Everywhereness!
As you can see in the links above, getting a Tracfone is very cheap. There is even one for less than $10.00! They are very easy to set up. As long as you have minutes available, you can make and receive calls and texts. When the minutes are used up, you just buy a new card and add more minutes. Or you can just buy a new Tracfone! You can get phones and minute cards for really cheap from places like Amazon or Walmart.
I know a lot of parents who a Tracfone for their kids to keep in contact with them (along with the kids keeping in touch with their friends) and never have to be worried about outrageous voice or data overages. I bet this can be a significant help during the summer months! Most teenagers would rather text than talk anyway. On average, a text of 160 characters or less costs .3 units, so most minute cards can go a long way by just texting.
Here's the link shown in the video above if you're interested
bit.ly/LznjaG
I've noticed the most recent kinds of TracFone in stores and it looks like they've improved a lot. They used to be just basic voice phones, and even though you can still buy the simple ones if that is all you want, there are many more to choose from these days. The Tracfone brand names look like they have gotten much better. There are phones with complete QWERTY keyboards and Bluetooth enabled smartphones. You can choose from leading manufacturers like Motorola, Kyocera, LG, Nokia and Samsung packed with features like camera/video recorder, web access, app capabilities, mp3 player for as low as $29.99.
With so many features, it makes it easier than ever to have a fully functional cell phone with no contract.
How to activate your Tracfone
When you first get your Tracfone, you will have to activate it. It's easy. Just punch in the series of numbers that come with it in the package. Test it out by calling someone to make sure it works.
Adding minutes to Tracfone
The minute cards work much the same as the initial activation. Somewhere in the phone's menu, you will find "Add Airtime". Select it and punch in the "Airtime PIN", which is the set of numbers on your card or receipt. Now you are ready to roll again! You can get a minutes card such as 200 minutes for under $30, or as low as $9.99 for 50 minutes. The minutes roll over for up to a year, depending on the card you buy. You can also "Double the minutes for the life of your phone". This is a feature that can be purchased separately for $19.99. This means that any Tracfone minute card you buy will have double minutes upon activating the PIN.
Now it is possible to even call international long distance just like any other phone call. With the International Neighbors program, you can provide family and friends in Mexico or Canada a local phone number in those countries to reach you at your TracFone in the U.S.
And with TracFone phone cards available at thousands of stores across the country, you never have to worry about being without service.
So what are you waiting for? Get a Tracfone and get into Everywhereness!